March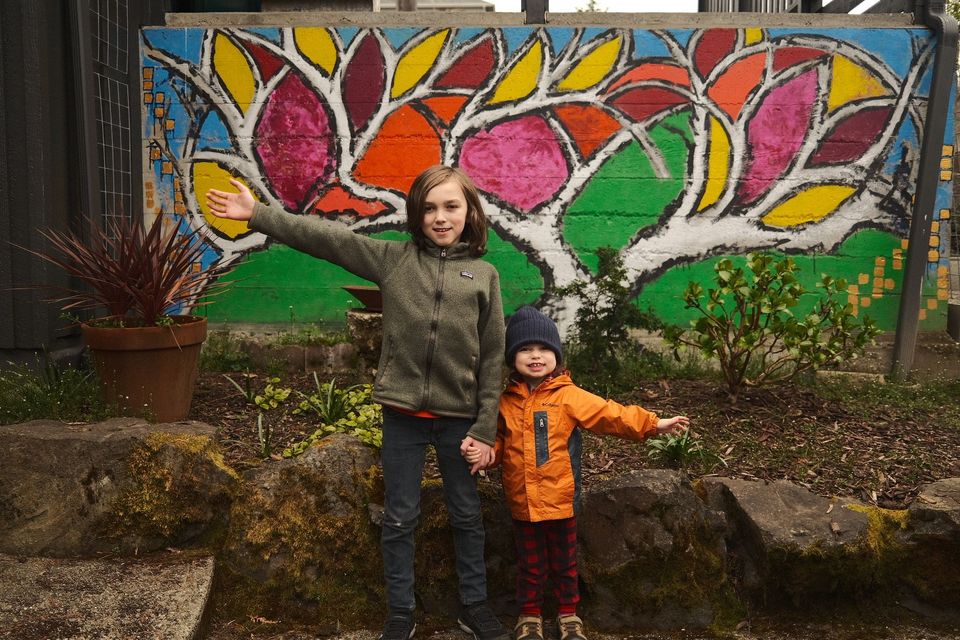 A few years ago, Indi wrote and illustrated one of his very first books. The book was called "What a Happy March," and the main characters were Mike, me, and Indi. It featured pictures of us all doing our favorite things, including watching movies at home, going to see movies in the theater, playing board games, reading books, building a fort, napping, and drinking wine (not Indi). We really had done a lot of fun, cozy family things that month. It struck me that Indi's natural inclination was to chronicle some of those things in a collection of approximately thirty days. A month really means nothing to a 5 year old, who does not yet possess a sensible understanding of the passage of time. For example, the month he wrote the book about was actually April. But maybe a month is the perfect amount of time by which to measure childhood and family joy.
This March, we did a lot: we went on our first pandemic-era local Airbnb trip, two hours north to Bellingham. We visited my parents' house for 2 nights for our monthly themed dinner. And we put on a family talent show! Mike played the chromatic scale on the ukulele. Indi improvised a drum solo on a homemade drum set. I sang a song from Frozen II to a YouTube karaoke track with Indi accompanying me on the drums. Breya did a dance to her favorite song from her current favorite movie, Raya and the Last Dragon (she's obsessed).
Hopefully you'll enjoy reading about our month in the following (very first!) newsletter. What a happy March!
What I'm Reading
This month I finally finished the biography of Steve Jobs by Walter Isaacson. It took me awhile to get into the first 25% of the book but I finished the last 75% during our long weekend in Bellingham. I recommend this book. The reporting is very thorough, taking the reader through Jobs's entire life and providing context for his personality and professional impact, as well as the concentric effect of that impact on the way we all live and experience the world today. Steve was a troubled individual, and unique among his peers: he believed in closed systems and extreme design simplicity. According to the book, his colleagues and contemporaries almost all favored open systems (the ability to use different software programs across different devices) and hardware that could be opened up and modified from the inside out, even if it made the design more complex and less aesthetically pleasing. This book made me reflect on how access to technology and the internet has changed throughout my lifetime as a result of career decisions made by people like Steve Jobs, Bill Gates, Mark Zuckerberg, etc. It made me imagine a world with BlackBerrys and Palm Pilots but no iPhones - a world in which those "smart" devices might have remained mostly owned by businesspeople, not every day people - and wonder what that would be like. It made me think about Bob Dylan in a different way (maybe a more human way).
This book would be a great companion book to read alongside The Everything Store by Brad Stone, which I read last year.
I'm currently about halfway through How to Be a Family by Dan Kois. Dan is a cohost of the podcast "Mom and Dad are Fighting" which I listen to regularly. This book is great so far. In the book, Dan's kids are 9 and 11. It's inspired Mike and I to talk about trips we would like to take in the future. One goal we have to is to take summers off every year, because we work in education, and utilize the summer break that our kids have to go on road trips around America, or beyond it. We'd like to study a destination as a family and then travel to see it in person.
What I'm Watching
This month the MCU / Disney Plus series WandaVision concluded after 9 fantastic episodes. It's pretty much impossible to overstate how much I loved this show. I looked forward to it every week and went down various Reddit rabbit holes about fan theories, in addition to following a couple of podcasts reviewing each episode week by week. One of these was the MCU Fan Show hosted by Sean Gerber and Paul Hermann (a fellow Seattleite) and Indi and I would listen to these episodes together during the week following Friday's new episode of WandaVision. That made it even more fun to speculate, because Indi has no problem humoring my tendency to obsess about a thing. In fact he loves to obsess in a similar way, because he is 9. Anyway, I loved watching this show in real time with my husband and son, but I think the rewatch power will be strong in a year or so, too.
Speaking of rewatching, we finally decided to plunge into the X-Men movie universe once again (Indi's first time) as well. So far this month we've made it through X-Men, X-2, X-Men: the Last Stand, X-Men Origins: Wolverine, and X-Men: First Class. My favorite part about these movies has been texting my brother while watching so we can reminisce about how awesome the first two movies were when we were teens, and confirm to each other that Origins: Wolverine is bad-good and Last Stand is just really bad.
And, on the superhero train, we've also now started in (again) on the DCEU movies, starting with Man of Steel. Here we're in a time crunch since the Snyder Cut of Justice League (not for kids) is apparently only on HBO Max for thirty days. If I don't report back on this in April, you'll know it's because I got lost forever in one of Snyder's many slow motion scenes, somewhere between hour one and hour four of the movie.
What I'm Listening To
This month on an episode of my favorite podcast, the Culture Gabfest from Slate, the hosts spent a segment talking about their emotions relative to the world reopening now that the pandemic is ending. Refreshingly for me, they were all honest about their anxieties, all of which I share. I have dreams regularly now where I am in a public place with no mask, and spend the entire dream feeling extremely guilty while also trying to justify to myself why it's fine that I'm not masked. Vivid segments of these dreams are me staring into a person's face and feeling acutely that we are much too close to each other. Alongside anxiety related to being introverted, the podcast hosts also acknowledged being in awe of how much stuff their prepandemic selves could do in a day. Now, one thing a day is more than enough to aim for. I know the future already: we'll all likely revert back to our super productive selves once it's asked of us. And that stresses me out.
In music land, we're listening to Bear Creek by Brandi Carlile and Queen's Greatest Hits, both on vinyl. The kids love to have dance parties to the Beatles and Chuck Berry. We're also in a bit of a music rut when it comes to digital music. We are seeking recommendations.
What I'm Making
This month's themed family dinner was supposed to be Julia Child's coq au vin, which I was really excited about until I attempted to make it at the beginning of the month. I did omit onions, garlic, and tomatoes to make it AIP (autoimmune protocol) friendly (I'm not AIP, but my mom follows a similar protocol). But I painstakingly completed the process of blanching the bacon, sautéing it, browning the chicken in the pork fat, etc. And it just wasn't worth it! It took three hours to make something of which we were not excited to have leftovers. It was a waste of really high quality organic chicken. I was depressed about this failure. I had a lot of anticipation about making something cozy, yet gourmet, nourishing, yet special. But it just wasn't very good.
So we've rerouted our plan for this month to be "anti" coq au vin. This will basically be a roast chicken, or two roast chickens, with wild rice and mushrooms for sides. This isn't what I am making for regular dinners this month - we typically get a rotisserie chicken from Whole Foods about once a week - but my mom has perfected her recipe for a homemade roast chicken and I hope to adopt it in my own home at some point. Here it is:
Anti Coq au Vin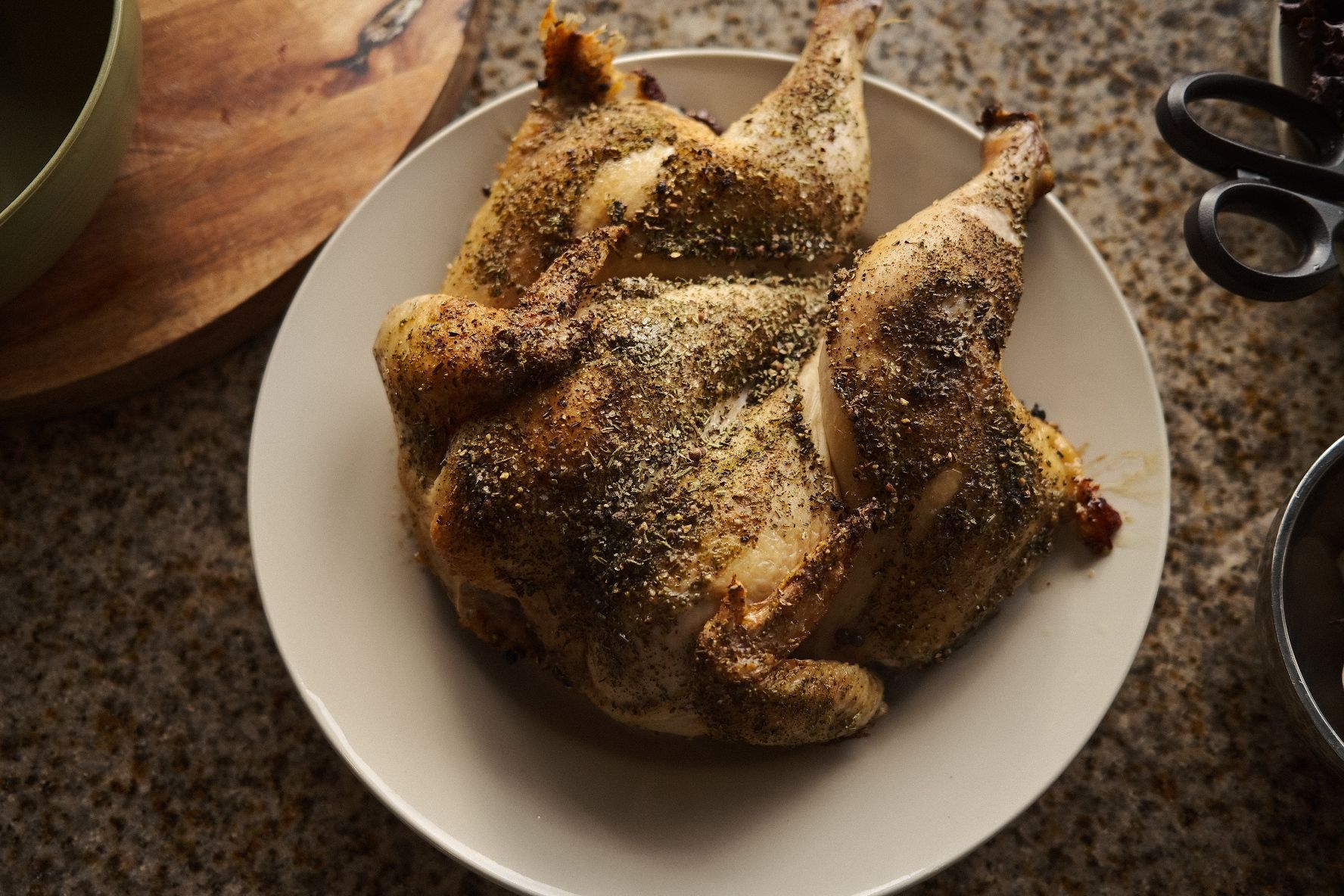 Ingredients:
1 chicken
Olive oil
Rosemary
Salt
Pepper
Preheat the oven to 400 degrees. Prepare seasoning by combining 2 tablespoons of coarse salt, 2 tablespoons of peppercorns, and 4-6 sprigs or 2 tablespoons of dried rosemary in a mortar and pestle or spice grinder. Crush or grind until granular. Reserve a tablespoon for this recipe and store the rest for future use. Or, use 1 tablespoon of store bought rosemary salt and pepper mix.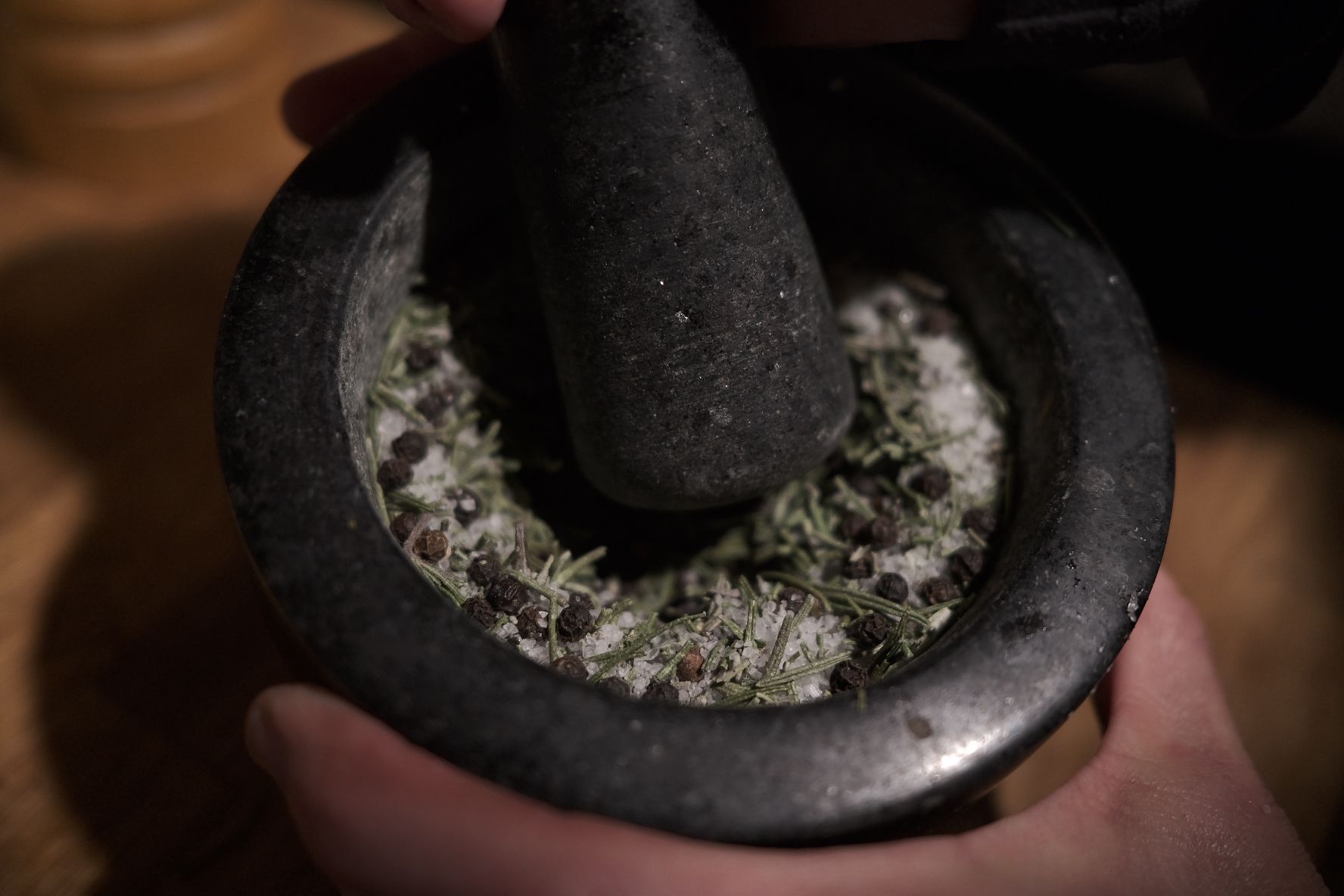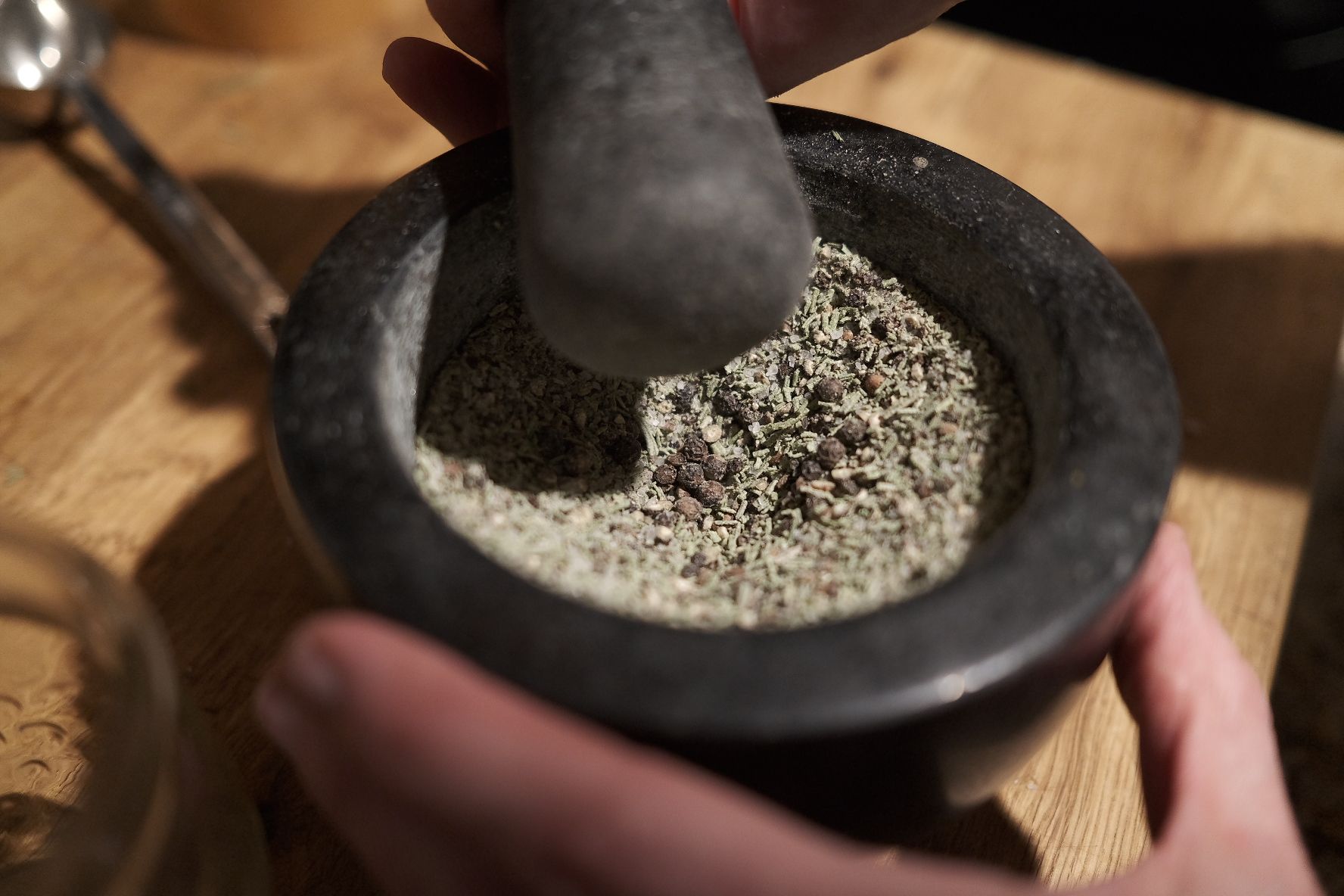 Place chicken in the sink. Remove the innards from the chicken. Use kitchen shears to cut the spine out of the chicken, or cut along one side of the spine. Put the chicken in a cast iron skillet. Press the chicken down as flat as possible. Rub the skin with about a tablespoon of olive oil. Sprinkle the chicken with the spice mixture.
Bake for 45 minutes. Chicken is done when the temperature of the thick part of the thigh reaches 160 degrees. If it is not done at 45 minutes, bake for 15 more minutes. Remove from oven. Pour drippings into a Dutch oven or cast iron pan if making mushroom sauté. Let chicken rest for 15 minutes. Serve.
Mushroom Sauté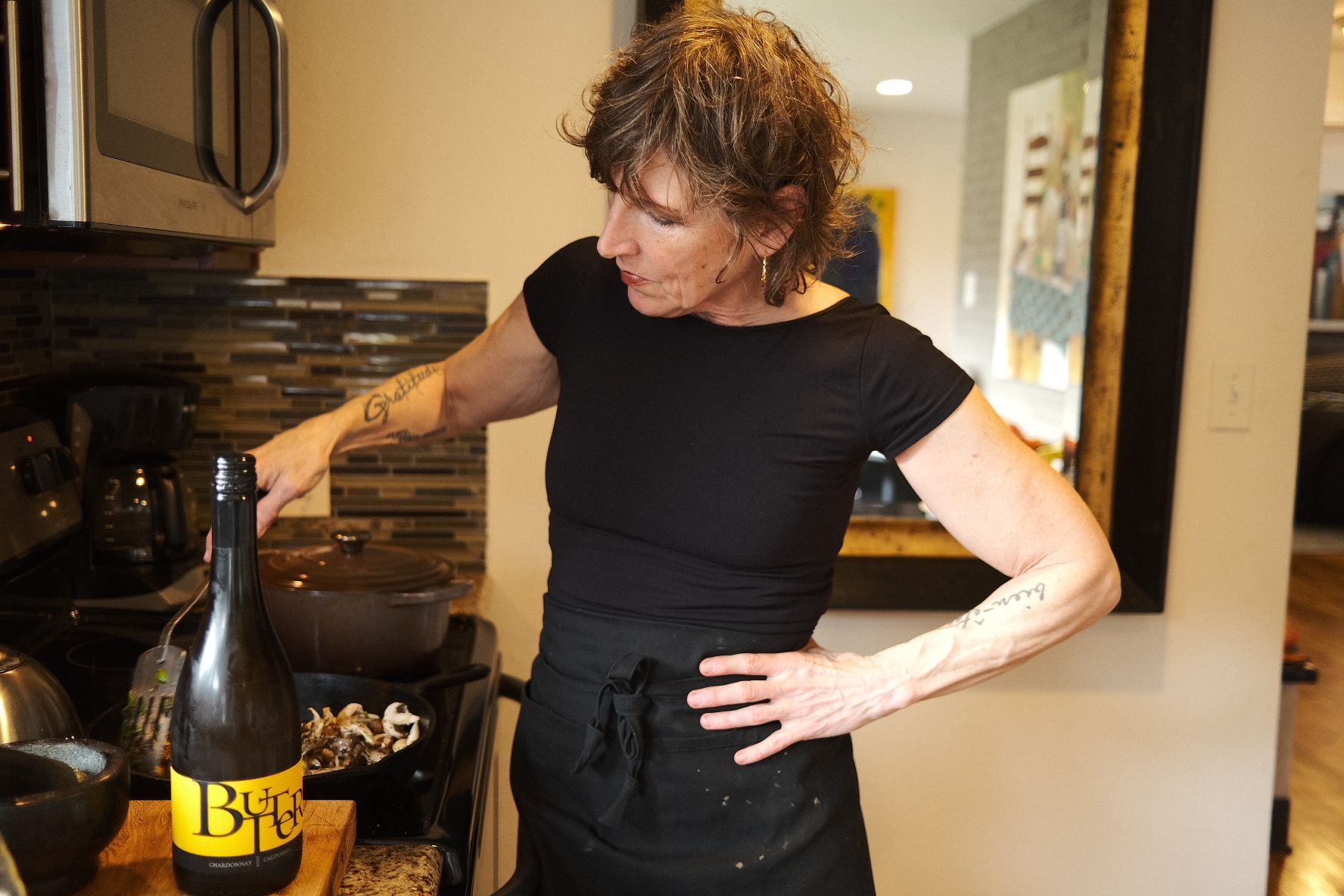 Ingredients
2 tablespoons Miyako's butter or regular butter
2 tablespoons chopped green onion
3 cups sliced mushrooms
2 teaspoons rosemary salt and pepper
1/4 cup white wine
1 tbsp Dijon mustard
Place butter and green onion into a medium to large size Dutch oven or cast iron pan. Cook on medium high until they sizzle, soften, and become somewhat brown. Add the spice mix, wine, and mustard. Reduce until the sauce around the mushrooms thickens a bit and reaches your desired consistency.
Serve chicken with wild rice on the side, topping the rice with the mushroom sauté. Crusty bread and butter optional and delicious. Add a salad with homemade vinaigrette if you're feeling ambitious.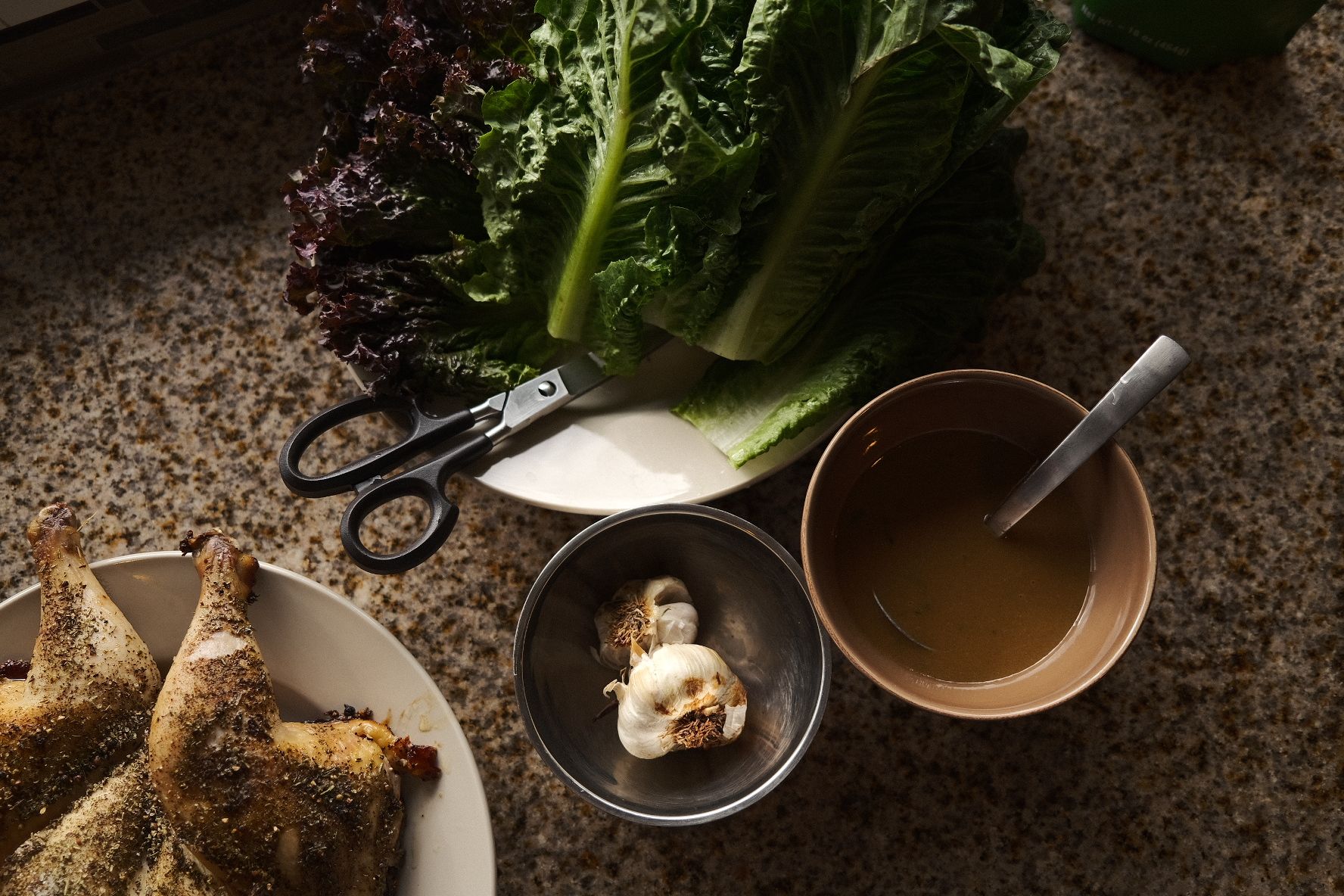 To truly make this meal the "anti coq au vin," serve with a good buttery Chardonnay, and other favorite red and white wines.
Mom Moment of the Month
A big focus of this month has been potty training Breya. A couple of weeks ago I decided it was time to get some baseline data. Breya impressed me by being able to stay dry for several hours while wearing underwear, and partially peeing on the potty. I impressed myself by making it through the entire day without having a breakdown. I was exhausted! But, this baseline showed me she was ready to start potty training for real.
Something I had to realize was that she will have accidents, and it's OK to have accidents. And sure enough, she peed on the floor once and has also peed through her underwear and clothes a couple of times. But it honestly hasn't been that bad. Once I faced my stress about it, I realized that as long as I could devote time to the aftermath of these accidents, the mess wasn't worrisome. Potty accidents are a fact of life. And potty training has a way of forcing even those most prone to constant multitasking (such as myself) to focus on the present moment. Disclaimer: none of the above pertains to training for #2, which is next level parenting I have not yet unlocked. I might report back next month!
But that's not my mom moment of the month. That special honor goes to the following story:
The other night my mom was over, and heading downstairs to go to bed in the office/ guest room. (It was late, like 11:30pm). I followed her down to make sure the garage was closed and locked. "What's that smell?" I asked. It smelled like burning. My mom though it might be her bucky, but the smell was more burnt than toasted. Immediately I remembered how long it had been since I'd changed the filter for our ducted heat pump (the air handler is tucked into a narrow pocket in between studs in the downstairs hallway wall, covered by a makeshift curtain). Okay, I thought. This minor mom task of checking to make sure the garage was closed and locked before going to bed has become a medium size mom task of changing the filter for the air handler. The problem was that I was holding a baby. So my mom took her into her room while I went to get the vacuum from the upstairs closet as well as the box of new filters from the garage. To change the filter, I have to go through the following steps:
Turn off the heat pump by flipping the (hard to flip) circuit switch which is on the air handler itself.
Remove the (hard to remove) metal filter cover by unclipping the clips and pulling it down.
Unplug the filter grate (I don't know why the filter grate plugs into a cord attached to another part of the handler, but it does).
Pull the (hard to pull out) filter grate out of the handler.
Open the (super hard to open) grate by prying open its hooks and pulling the two sides apart.
Remove the (completely gross, unrecognizably filthy) old filter and put it on the floor.
Vacuum the two sides of the filter. First, I did this from the wrong sides so that the vacuum couldn't pick up any of the quarter-inch-thick dust caked all over the grates. Then I figured out that by turning the grate over I could vacuum it up in strips. This was very satisfying.
Put the new filter in.
Close the filter grate, put it back in the handler, close everything up, and turn the heater back on.
Things went terribly wrong for me at step 8. When I went to put the new filter in, it was much too long to fit in the filter grate. The tech who had completed our last maintenance checkup had sold me a new set of filters, and had apparently given me the wrong box. I could not cut the filter to fit, because the inside of it is also metal, like chicken wire. I could not put the old filter back in, because it had gone beyond the realm of functional (and, I thought, was a fire hazard at this point due to the burning smell). I could not turn the handler back on, which meant we would not have heat overnight. Here's where things got really crazy! In my mind, I failed to equate this development with the many power outages I have experienced throughout my life (as a child growing up in the deep suburbs, some lasted days and even up to a week). I felt like my family was in danger. (It was past midnight at this point). I got the baby back from my mom and asked her to leave the space heater in her room on with the door open so that some heat could flow upstairs. I woke up both of my older children to tell them it might get really cold tonight so please call out to me if you get too cold, and I put an extra blanket on each of them. Breya could not go back to sleep so I got her out of bed and nursed both her and the baby on the couch while I called the emergency phone number for the company who installed and maintains our heat pump. They told me the cost of an emergency visit would start at $160 even though I am a member of the service club, for which I pay a monthly fee. They agreed to have the on call technician call me back before committing to the fee. At this point my phone was at 5% battery so I put Breya back to bed, then plugged in my phone in the kitchen while still holding the baby and waited for a call back. When he called I explained the whole story and that I would not want to pay the $160 to have someone come bring new filters so I could turn the heat back on. He was unperturbed. Apparently I am not the only person who has ended up with the wrong size of air handler filters. He said that I could run the heater for one night without a filter and that would not be a big deal. It's not a fire hazard? I asked. No, he said, the worst that can happen is that the heater blows its own fuse. Then when we come to drop off new filters tomorrow, we will also replace the fuse. Okay, I said, thank you so much. I went downstairs and put everything back together, and finally went to bed around 1:30am, about two hours after I had gone downstairs to make sure the garage was closed and locked.
Photos of the Month